Thousands of Scientists around the world entrust ROSALIND every day to discover the most valuable results in their NGS data and to enable collaboration across project teams and labs. ROSALIND provides fast, easy data processing and is recognized as the leading Scientist-focused platform for genomic analysis and collaboration.
In this post, I'll review ROSALIND's latest capabilities, supported species and experiment types as well as our new subscription plans designed specifically for Scientists and Biologists.
In case you missed it, we recently provided a detailed walk-through on Public Data exploration. Follow this link for more information.
As well as the ability to Collaborate on Genomic Data as easily and in real-time like Google Docs. Follow this link for more information.
NanoString recently announced a collaboration for the development of new analysis tools for data generated on NanoString's nCounter® Analysis System. The new analysis functionality is built into ROSALIND and will soon be available to all NanoString customers. Learn more and join the Early Access Program.

For Scientists, Explorers and Directors
I'm thrilled to share the details on our ROSALIND subscriptions for Scientists, Explorers and Directors. I give much thanks to our Oncology Research, Discovery and Therapeutic customers who helped to shape and design these to enable their teams.
Deep Interpretation & Exploration
ROSALIND Scientists, Directors and Explorers access best-in-class data visualization and pathway interpretation, including enrichment with over 50 leading knowledge bases:
Pathways: WikiPathways, BioPlanet, Reactome, Panther, BIOCYC, 
Pathway Interaction Database, 
and the Small Molecule Pathway Database
MSigDB Pathway Collection: Hallmark, Chemical and Genetic Perturbations, Reactome, BioCarta, Protein Interaction Database
Oncology & Immunology: Cancer Gene Neighborhoods, Cancer Modules, Oncogenic Signatures, Immunological Signatures
Transcription & Regulation: MSigDB - Transcription Factor Targets, JASPAR - Transcription Factor Targets, TRRUST - Transcriptional Regulatory Networks, miRNA Targets, miRNA Target Interactions, miRNA Target Predictions, and Chromosome Location
Diseases: ClinVar, PheWeb, GWAS, DisGeNet, Jensen Diseases
Drugs: FDA Approved Drugs, Kinase Inhibitors, BROAD Connectivity Map, Computational Drug Signatures, Guide to Pharmacology, Drug-Gene Interaction Database, Drug Matrix - Toxicogenomics Gene Signatures
Virology: P-Hipster - Pathogen-Host Interactome, GEO - Virus Perturbations
Ontology Collection: Human Phenotype Ontology, Biological Processes, Molecular Functions and Cellular, Molecular Functions and Cellular Component, GO Molecular Function, GO Biological Processes, and GO Cellular Component, including advanced pruning to eliminate largely redundant terms
Cell Types & Tissues: Cell Atlas
Protein Collection: Protein-Protein Interactions, Interpro, Pfam, SMART, GENE3D, Prosite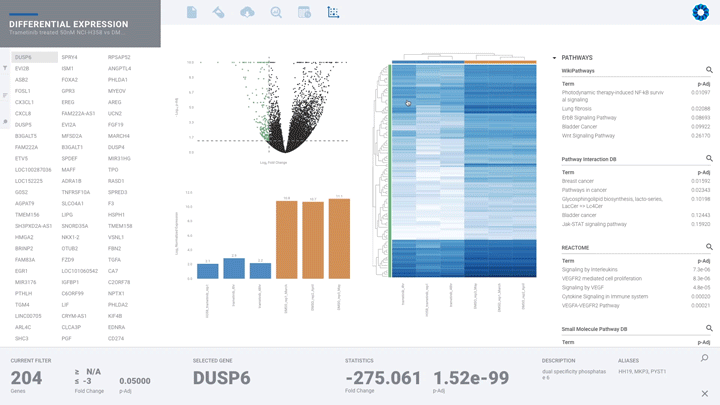 Experiment Types
(we probably added more by the time you're reading this)
Multi-Omic Meta-Analysis
We use Machine Learning to identify patterns across data sets and provide full biological and pathway interpretation, including:
Single Cell Cluster Meta-Analyses (Multi-Omics comparisons of scRNA-seq to nearly every other experiment type on ROSALIND)
Gene Expression Meta-Analyses (RNA-seq to RNA-seq comparisons)
Chromatin Accessibility to Gene Expression Meta-Analyses (ATAC-seq to RNA-seq comparisons)
Protein Binding to Gene Expression Meta-Analyses (ChIP-seq to RNA-seq comparisons)
Chromatin Accessibility to Protein Binding to Gene Expression Meta-Analyses (ChIP to ATAC to RNA-seq)
NanoString RNA panels to RNA-seq comparisons
NanoString Protein panels to RNA-seq comparisons
NanoString to NanoString comparisons
Gene List Management
Utilize the Gene List Manager to create and share custom gene lists for collaboration. Gene Lists may encompass multiple species and consist of individual genes, miRNAs, or pathways. Access the Gene List Manager within the User area, or directly create and modify lists using the gene information bar within Interactive Analysis
Gene Signature Discovery and Exploration
Use Gene Lists in Interactive Analysis and Normalized Expression to discover and evaluate gene signatures across your experiments and public datasets. Gene signatures accelerate discovery by focusing your expression dashboard on the genes, pathways and diseases of interest. When selecting a Gene List within Interactive Analysis and Normalized Expression each plot will dynamically update and focus on your genes of interest.
Supported Species
(we're always adding more if you see one missing)
Mammals: Human (Homo Sapiens), Mouse (Mus Musculus), Rat (Rattus Norvegicus), Crab-eating Monkey (Macaca fascicularis), Rhesus Monkey (Macaca mulatta), Canine (Canis familiaris) and Chinese Hamster (Cricetulus griseus)
Insects: Fruit Fly (Drosophila Melanogaster)
Fishes: Zebrafish (Danio Rerio) and Cave Fish (Astyanax mexicanus)
Birds: Chicken (Gallus gallus) and Zebra Finch (Taeniopygia guttata)
Worms: C. Elegans (Caenorhabditis Elegans)
Plants: Arabidopsis (Arabidopsis Thaliana)
Fungi: Yeast (Saccharomyces Cerevisiae)
Virus: SARS-CoV-2 (Severe acute respiratory syndrome coronavirus 2)
A Fresh Approach
Too often, we all see scientific software use a "low volume-high priced license" sales strategy. Whether it's planned for the low volume, that is certainly the chosen path to profit from commercial customers, while offering heavy discounts for academics. I'm not sure anyone really wins with this strategy, and it's certainly not the individual Scientists who need the accessible software that will advance their experiments.
We believe in a different approach that's deeply tied to our BHAG (Big Hairy Audacious Goal) - To empower Scientists globally in the discovery of life's unknowns by reinventing research. To succeed in this mission, we understand that Scientists everywhere need access to ROSALIND, and their access should be optimized for their individual roles and responsibilities.
New Plans for Scientists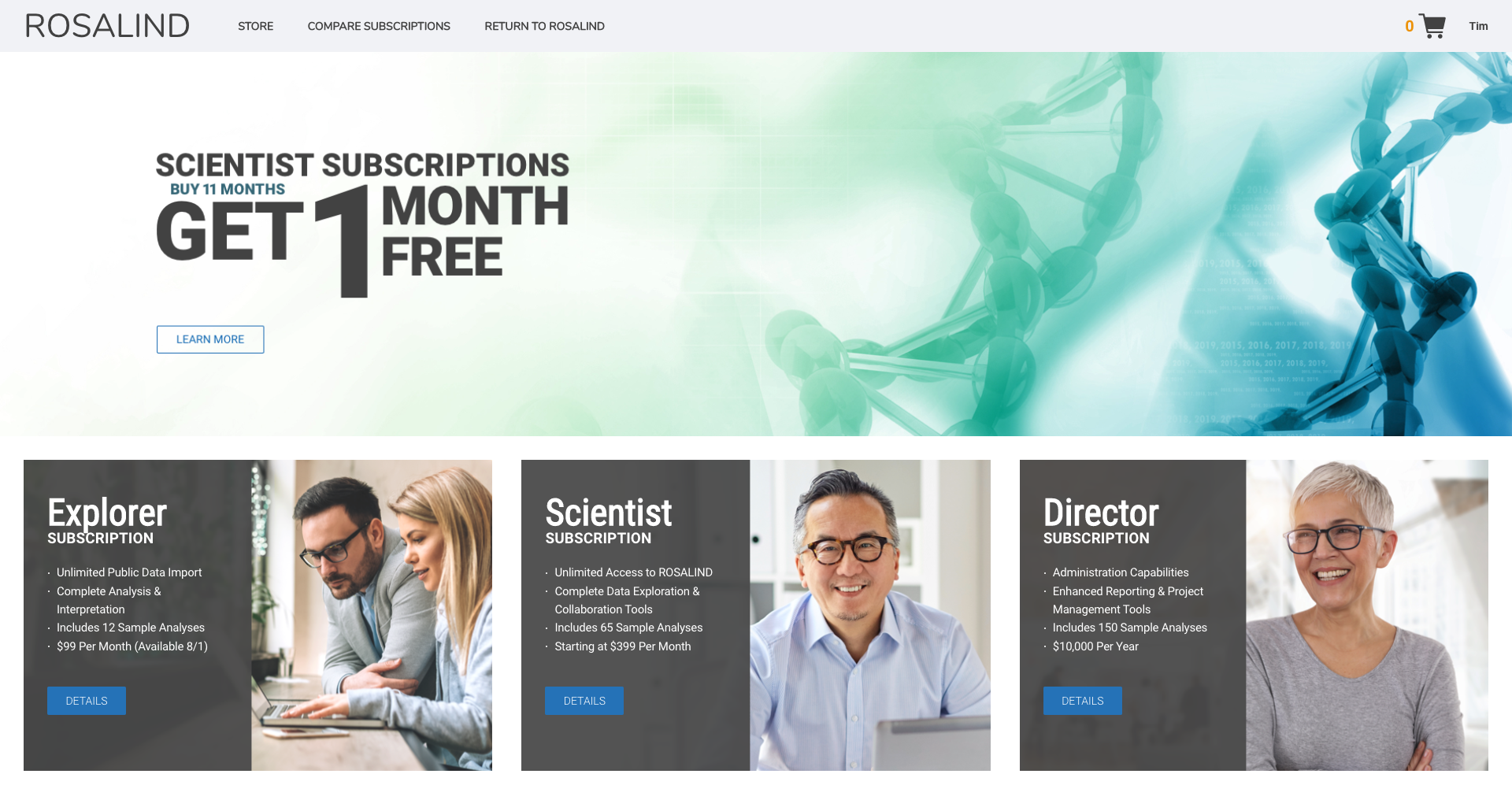 Conclusion:
Whether you're a Scientist in Drug Discovery or a Researcher working on Rare Diseases, ROSALIND provides the best experience for analyzing your data and collaborating across teams:
ROSALIND is designed for Scientists who don't have any prior bioinformatics background and empowers them with deep interpretation and the most advanced collaboration tools in genomics.
ROSALIND Directors harness admin capabilities to share projects and manage team budgets.
Advanced real-time analytics reports track usage trends and important quality control metrics.
Project Teams realize immediate productivity gains with same day results.
Preserve bioinformatic pipeline investments by importing processed data and empower your Scientists to explore your full library of valuable data.
Liberate your data and ensure everyone on your team can collaborate in real-time.
Choose the right plans for your team here, and sign up for a Scientist 14-Day Trial to get started today.