We've created a comprehensive tutorial video on how to Create and Use a Gene List in ROSALIND, you can review it here:

Step-by-step Walkthrough:
1. First select the Navigation Menu in the top left-hand corner of the screen. Then, select the "User" tab from the drop-down menu list.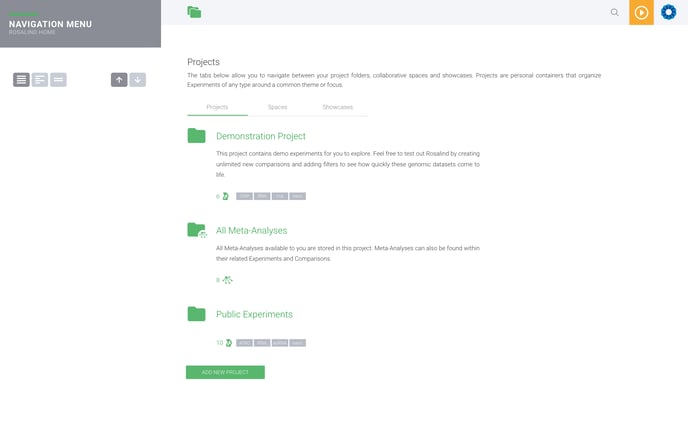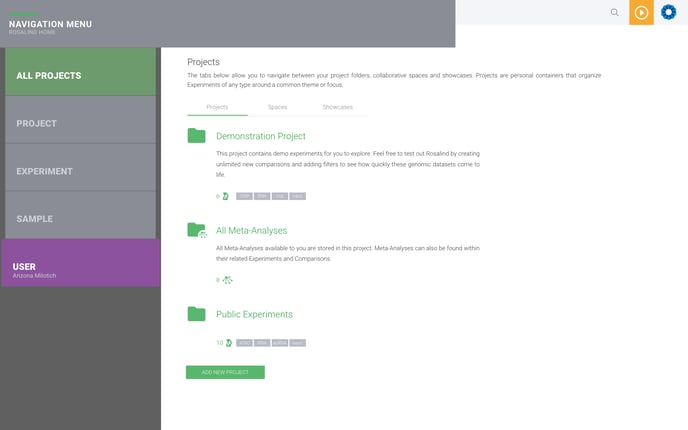 2. Select "Gene Lists & Signatures" from the Menu bar on the top of your screen.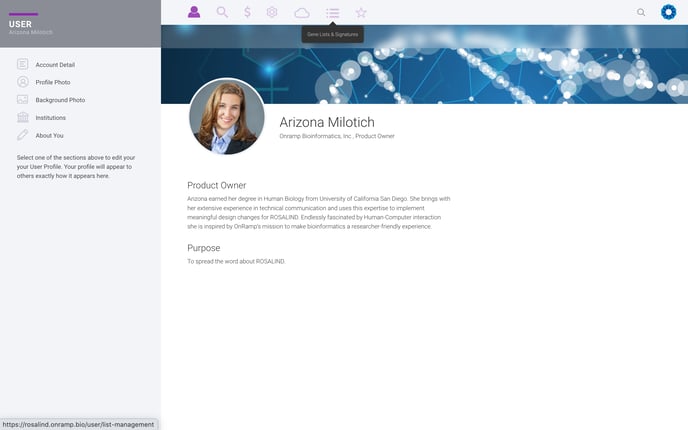 3. From the Gene Lists Manager page, scroll down until you can select "Add Gene List".

4. Give your new gene list a name and description. You may choose to create a list of either genes or miRNA. Select "Next" when ready.

5. Use the text field on the left-hand side menu to search for a specific gene of interest OR you may even search for a term. Select "Add to List" to add your selection to your gene list.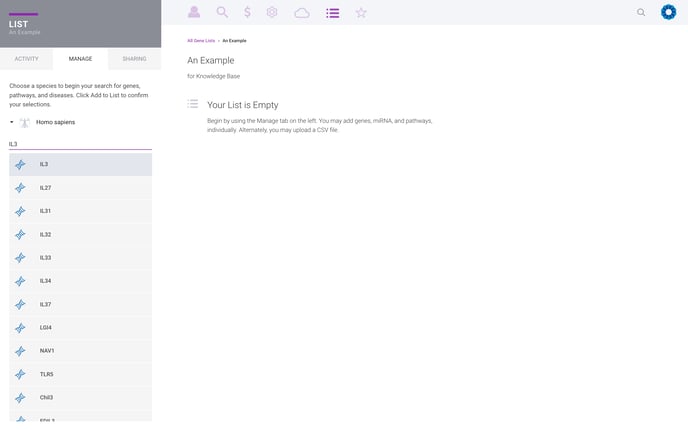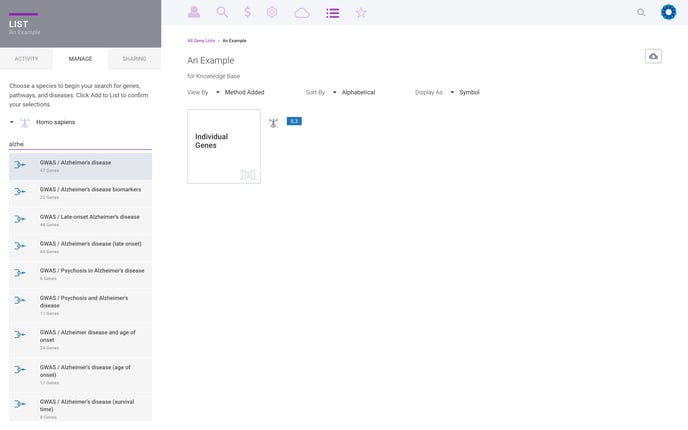 We offer a variety of different species that you can search by genes for. Our default is Homo Sapiens, but you can click on the drop-down menu to see the other species we support.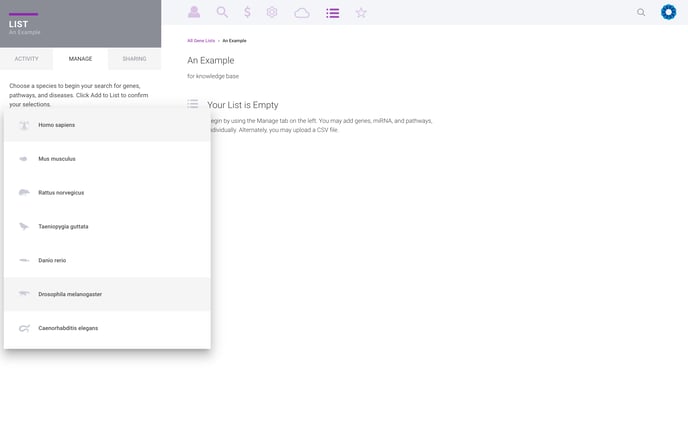 If you'd like to remove any genes from your Gene List, simply select the gene you'd like to remove and select "Remove from List".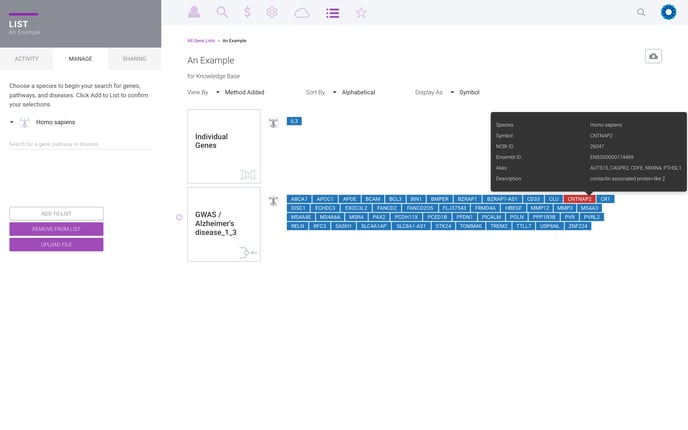 You also have the option to Upload a Gene List. There is a template available to download, which will give you an example of how to set up your Gene List so that it is able to be imported into ROSALIND.

Once you have your Gene List, you may choose to share it with a colleague. Select the "Sharing" tab on the left-hand side of your screen. If your colleague has a ROSALIND account, you may type their name in the text field to share your gene list with them.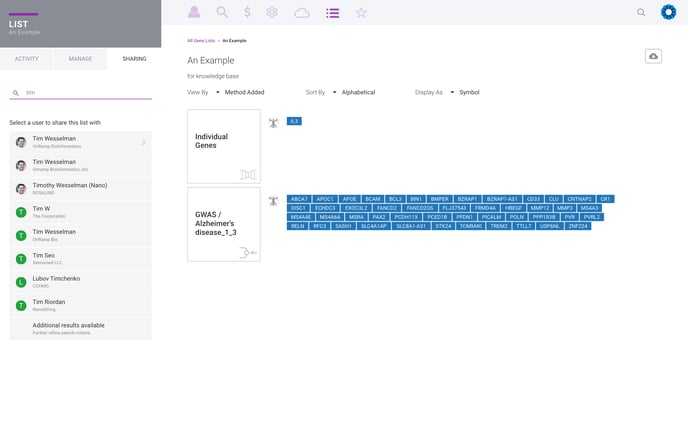 How do I use my new gene list?
Once your gene list is ready, you can easily import your gene list into any of your comparisons.
Simply access your comparison, then select the pin icon on the left-hand side of your screen.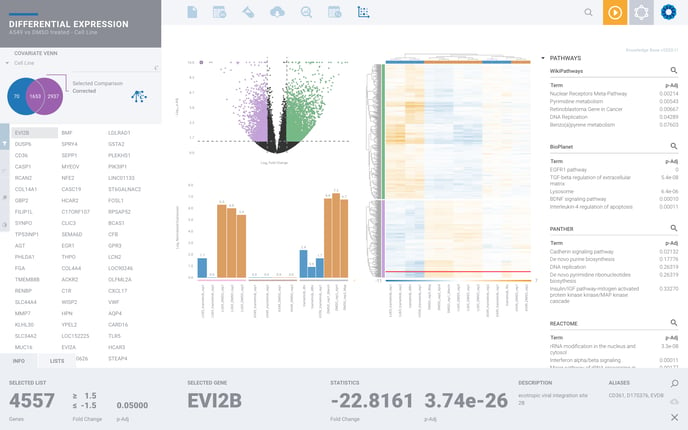 Next, select your gene list from the drop-down menu of available gene lists.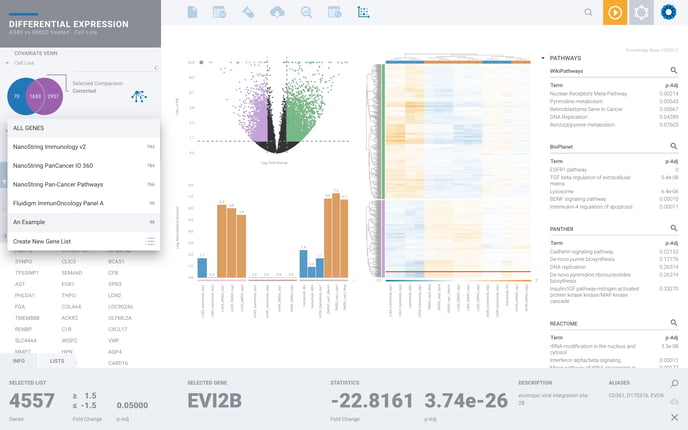 Once loaded, you should see all genes that are differentially expressed between your comparison group and are also included on your gene list. ROSALIND will report back to you how many genes from your gene list were not differentially expressed in your comparison.