Company Directories / Library
What is a Company Directory?
When you first log in to ROSALIND DxM, you will be greeted with your Company Directory. This is a list of all the current diagnostic tests that have been added both by you and others that have been provisioned to add to your library.
Super Users / Admins have the ability to modify or delete diagnostic test details that have been added by any user within the same agency. To edit a test, click the

icon that will appear when you roll your mouse over the name or species image for that test.
You will have the options appear in the left sidebar to edit the Test Name or Description, as well as

or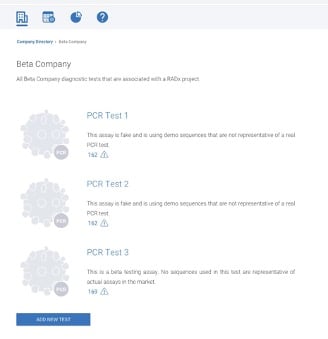 Clicking on the name of the diagnostic test will direct you to the test summary where you can view the details of the test definition, primer sequences (if not hidden during set-up) as well as download a report of the daily / weekly alignments of all new US SARS-CoV-2 sequences that have been identified as a mismatch to primer/probe sequences provided for that test.
Click the

button to begin adding details for a new test under this company.