Let's face it, collaborating on genomics data is hard.

We all know that collaboration is important and adds tremendous value to interpreting and sorting through mountains of data. Yet, the complexities of collaborating on this data can be overwhelming with sharing massive files, spending hours of downloading, resolving inconsistent results and difficulty tracking emails and spreadsheet iterations.

So, what happens too often?… we resort to sending some charts by email after having spent hours (days?) massaging the data in hopes that our collaborators will be able to find similar meaning in the data… and then tell ourselves this was collaboration. In reality, this wasn't collaborating on the data at all. In no other industry would it ever be considered normal to send 50GBs of docs over email in order to have multiple authors make edits, and then attempt to merge and accept the changes. Today, we all take Google Docs for granted, so why do we continue to accept so much less for our highly valued genomic datasets?

In this post, we'll demonstrate the simplicity and transformative impact of ROSALIND's real-time collaboration on Genomic datasets. Imagine everyone working on a consistent version of the data, in real-time, with a beautifully interactive experience and an audit trail for every change. It's possible now. It's global, and thousands of Scientists (and Bioinformaticians) entrust it today. Here's how it works...

In case you missed it, we recently had a similar post on Public Data exploration. Everything I describe here can be done on Public Data in addition to your own. Follow this link for more information.
Before we begin...
Most scientists I meet initially think of collaboration as sharing an experiment. Yet true collaboration is much more than sharing a single experiment, and it's rarely limited to one experiment, or person.
Your fellow scientists certainly have their own experiments, which likely have value when analyzed together with your own. Rather than dueling 1-way shares, what's needed here is a virtual meeting room, or a collaboration SPACE, where any participant could add experiments, explore and interpret the results in the SPACE and create Meta-Analyses across them? Now you see the big picture.
Collaboration begins in Spaces.
Step 1: Getting Started
By now, you should have logged into your ROSALIND account, or completed your registration. You likely see a screen similar to the one below. If not, click "All Projects" in the navigation menu on the left.
Look for the "Spaces" tab at the top of the page as shown in the image below. Click it.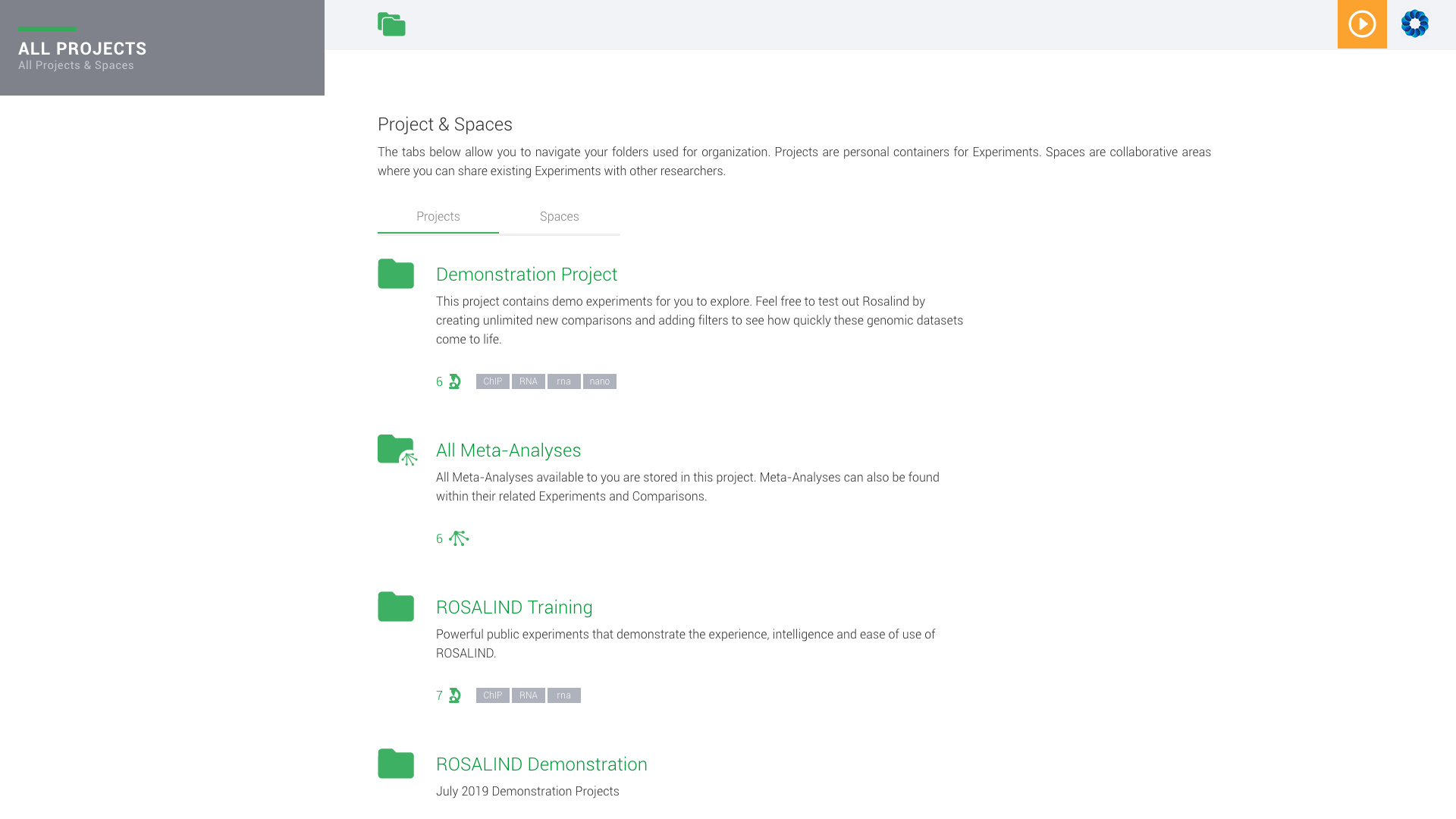 Step 2: Review Your Spaces & Invites
Now you're looking at the summary of all the Spaces you've created or have been invited to join.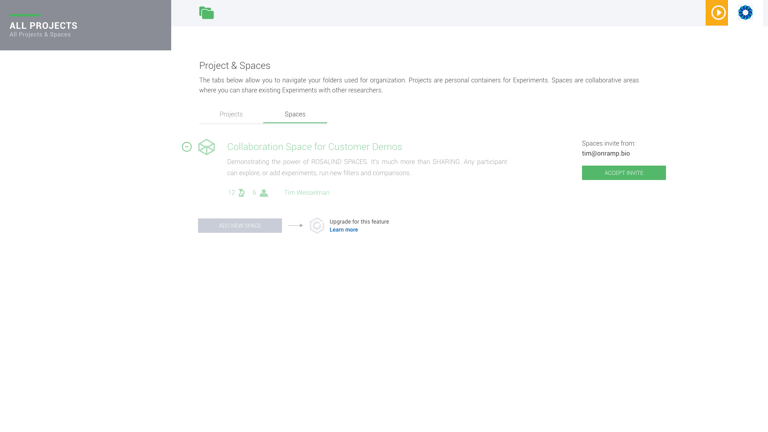 Something to Consider - Even the best bioinformaticians with the most advanced pipelines require a collaboration platform to empower your Scientists.
Step 3: Creating a Collaboration Space
Click "Add New Space."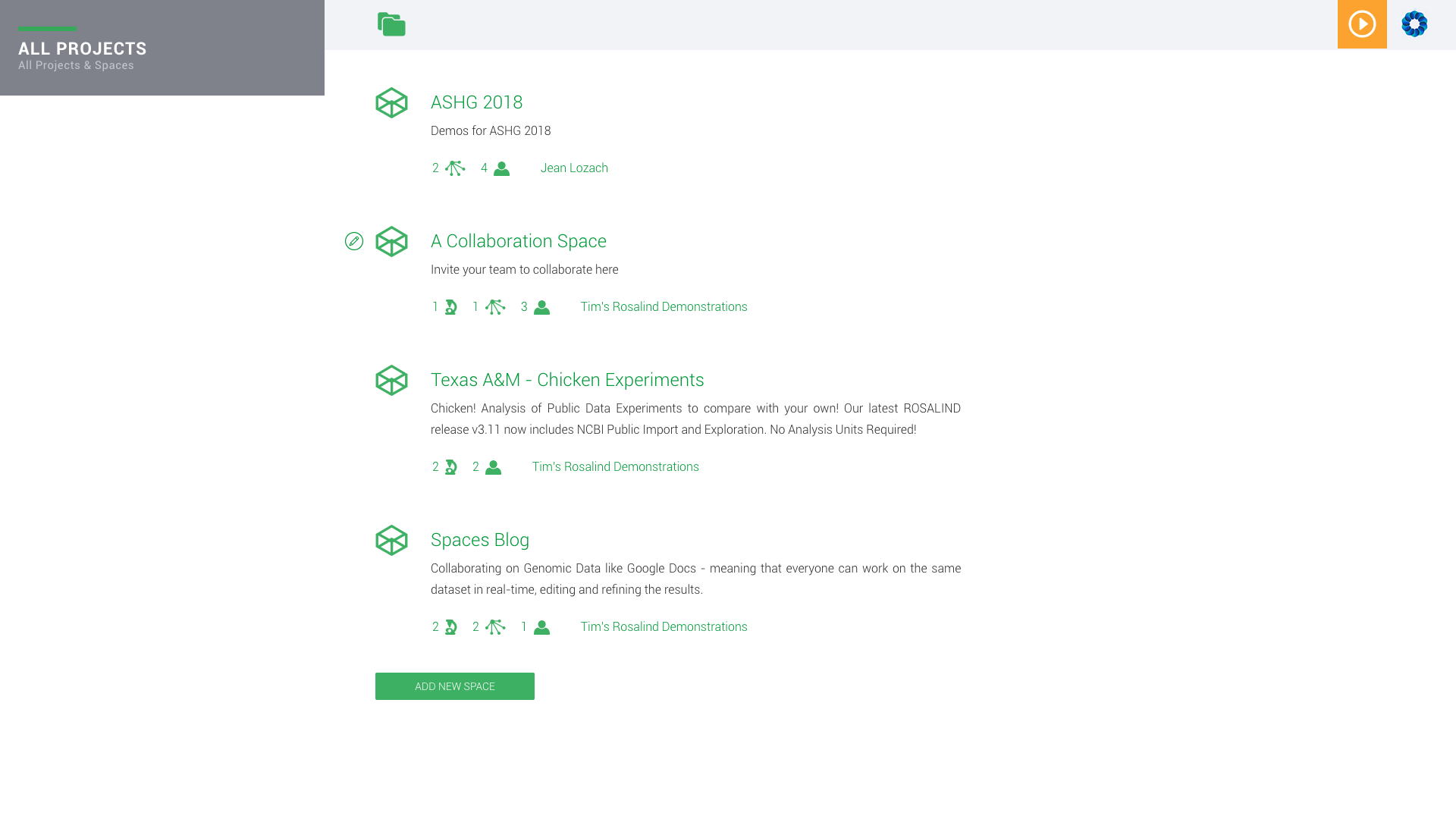 If you have a Viewer account and you've been asked to upgrade, click on the 14-Day Trial. You'll get unlimited access, including Public Data import and exploration, as well as 5 Analysis Units (AUs) to process five of your samples. It's well worth it, especially to continue following along. Simply add it to your cart and follow the process - and not to worry there is a cancel trial button you can use in your account settings.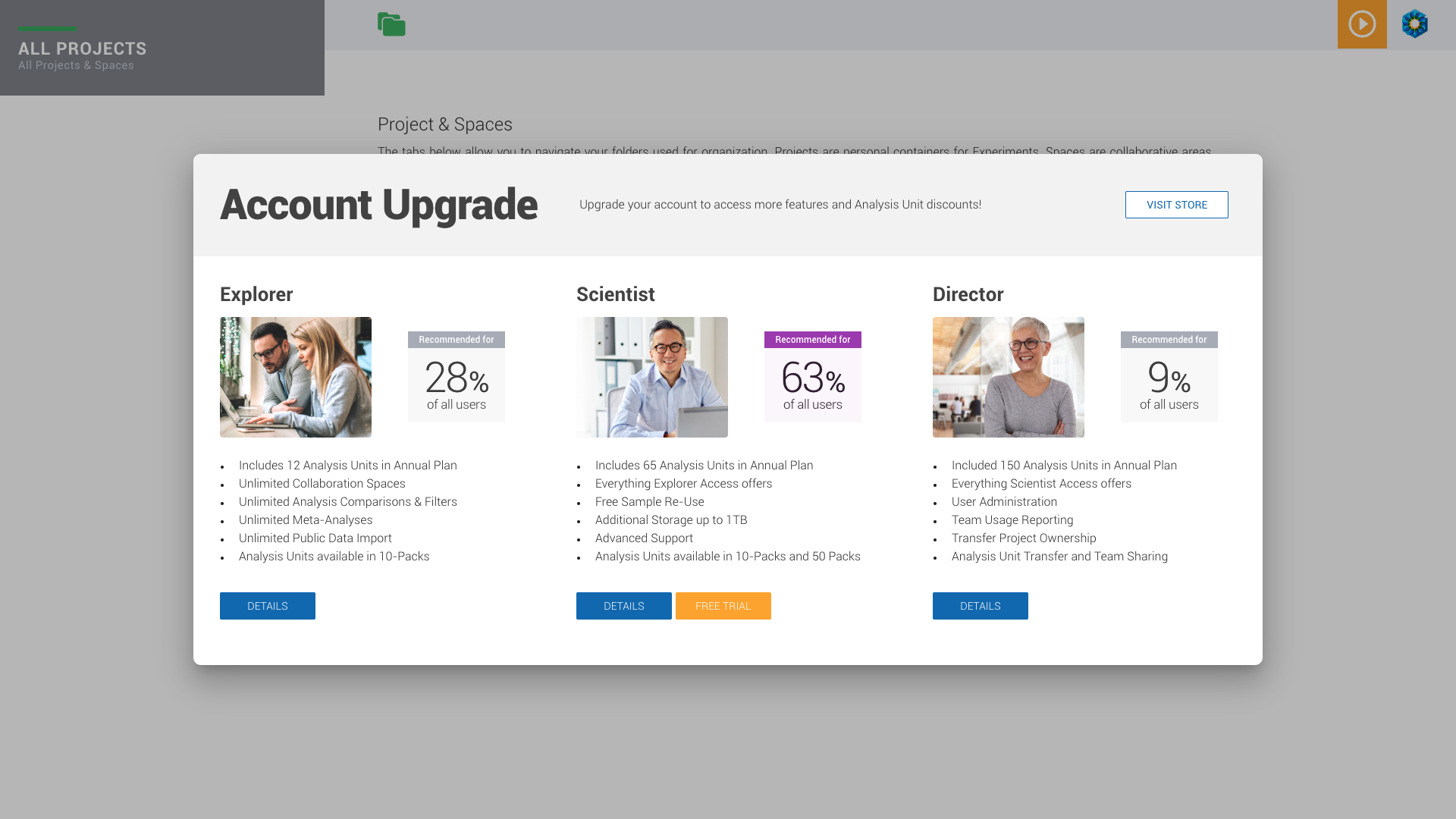 Step 4: Describe your Collaboration Space
Enter a Title and Description for your collaboration Space. You'll see this every time that you and your team enters the Space, so take a moment here to be thoughtful. (You'll see this every time that you and your team enters the Space. You can always edit this later.)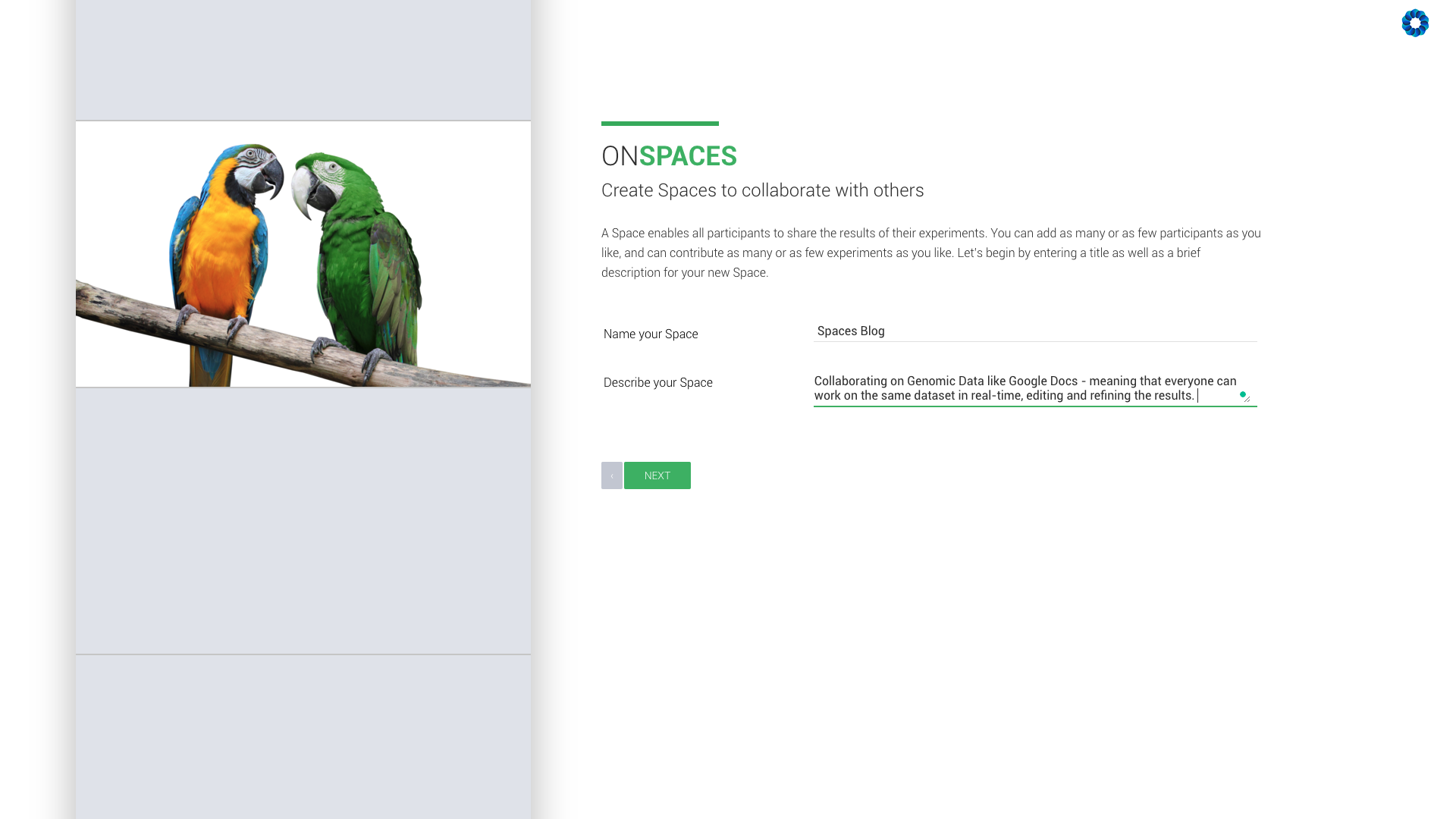 Step 5: Select Experiments for Collaboration
Now it's time to select the experiments that you want to add. It's a Space and it's practically limitless on how many experiments you add. Select the ones you want to share that are related to the focus you are creating here.

If you don't have an experiment here, simply select one of the demos. (Or go start a Public Data import with your new trial access!)
You can always come back and add more experiments (or remove them) from a Space.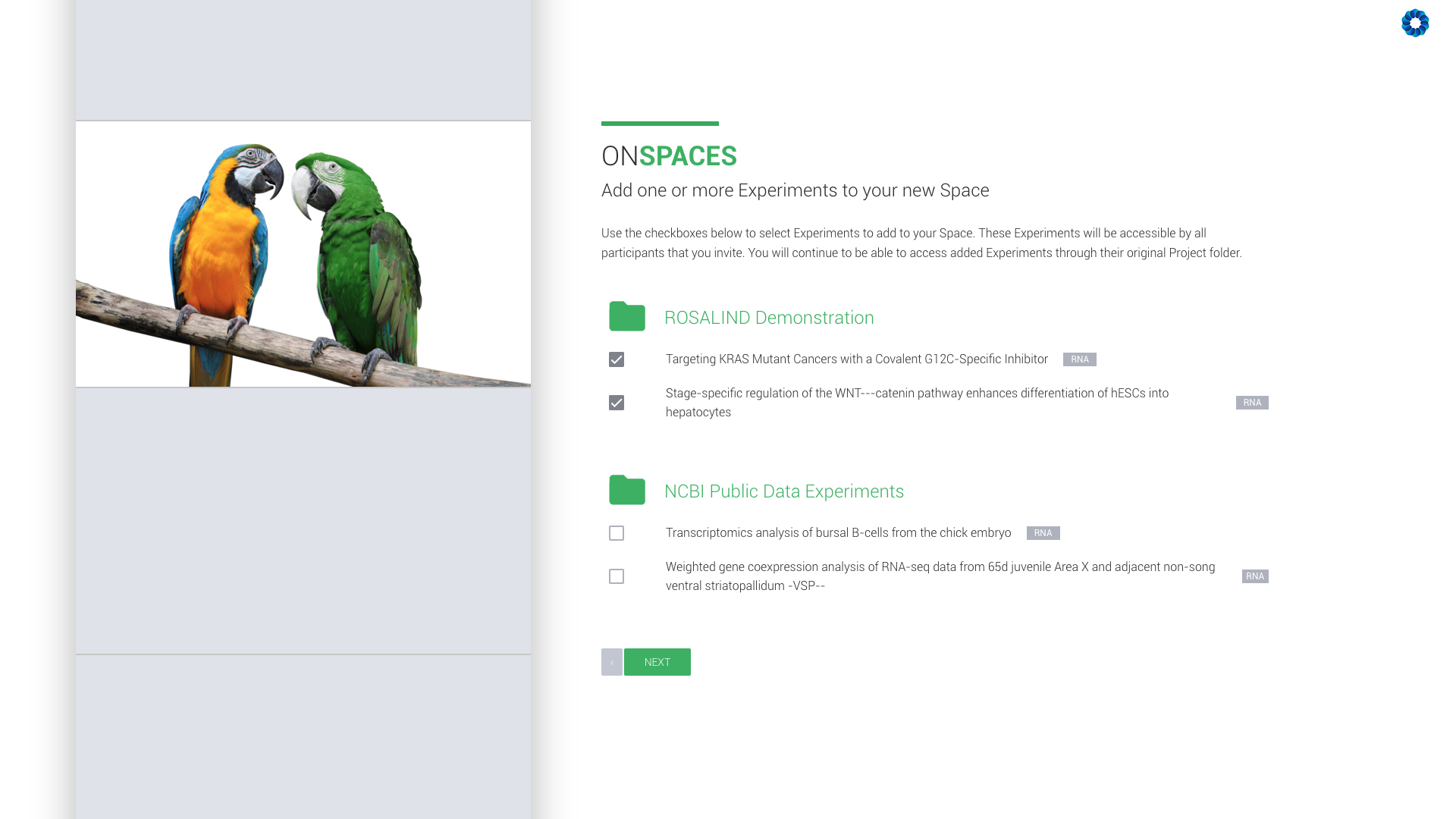 Step 6: Select Meta-Analyses for Collaboration
Now select any Metas that you want to add into the Space. If you don't have one, just click "Next."
FYI - Metas use machine learning to find and interpret the patterns of gene expression across your experiments and comparisons. If you haven't created one, you'll enjoy doing so after this.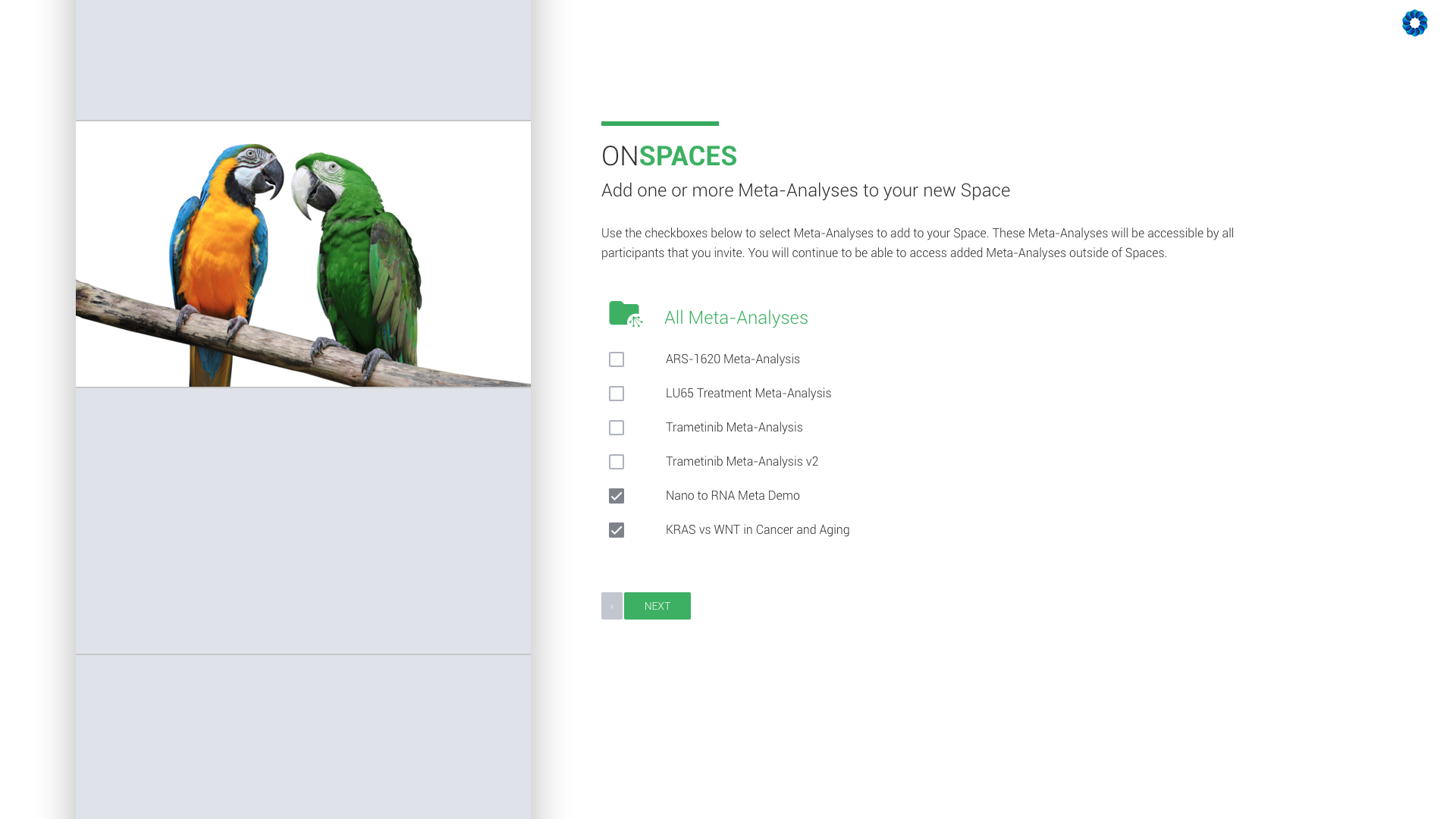 Step 7: Invite your Collaborators
Now it's time to invite your fellow Scientists to join this Space. You can invite anyone by email, or by text. As owner of the Space, you can invite more participants, or remove them, at any time.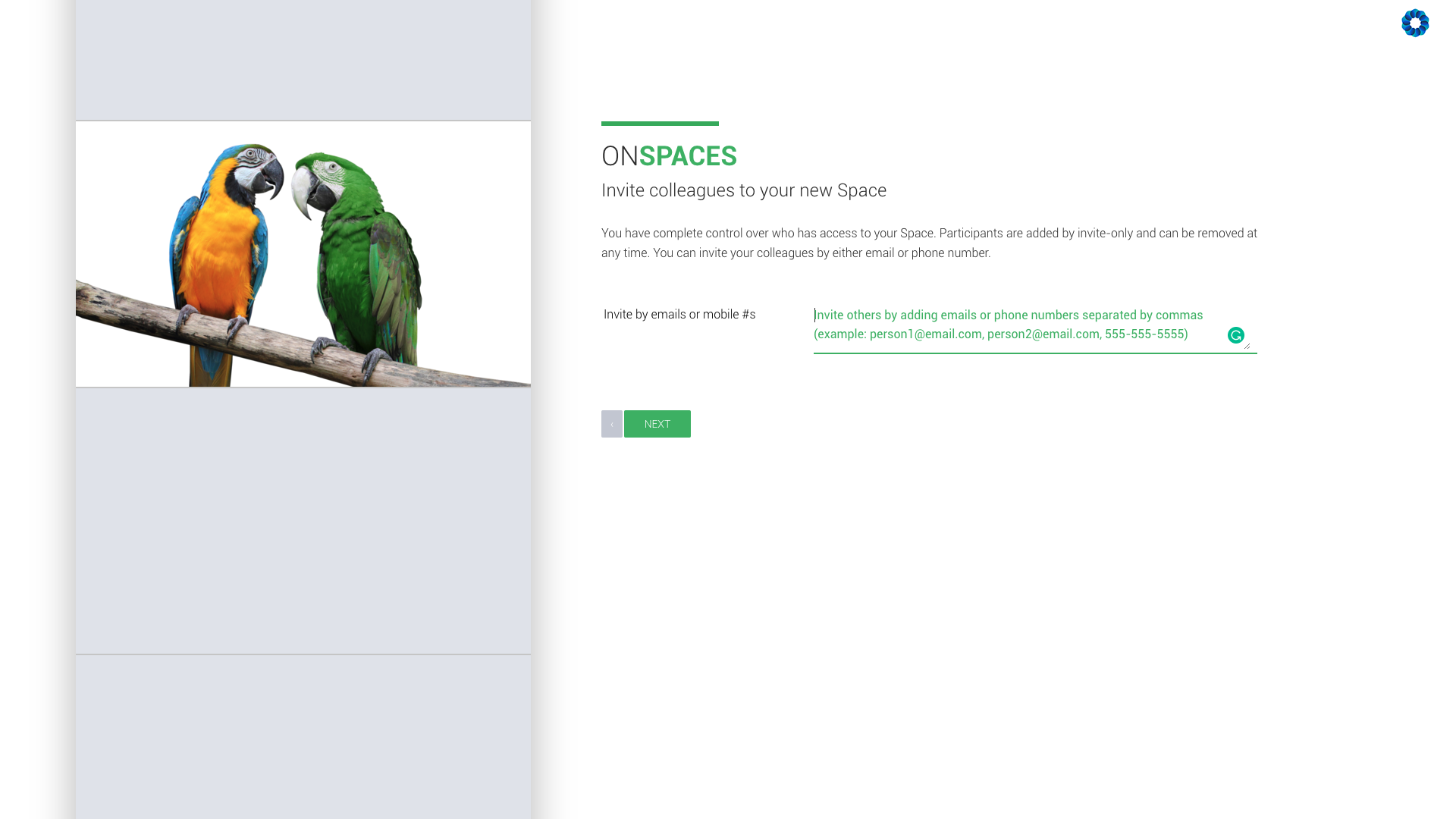 Everyone you invite will get an invitation that looks like this.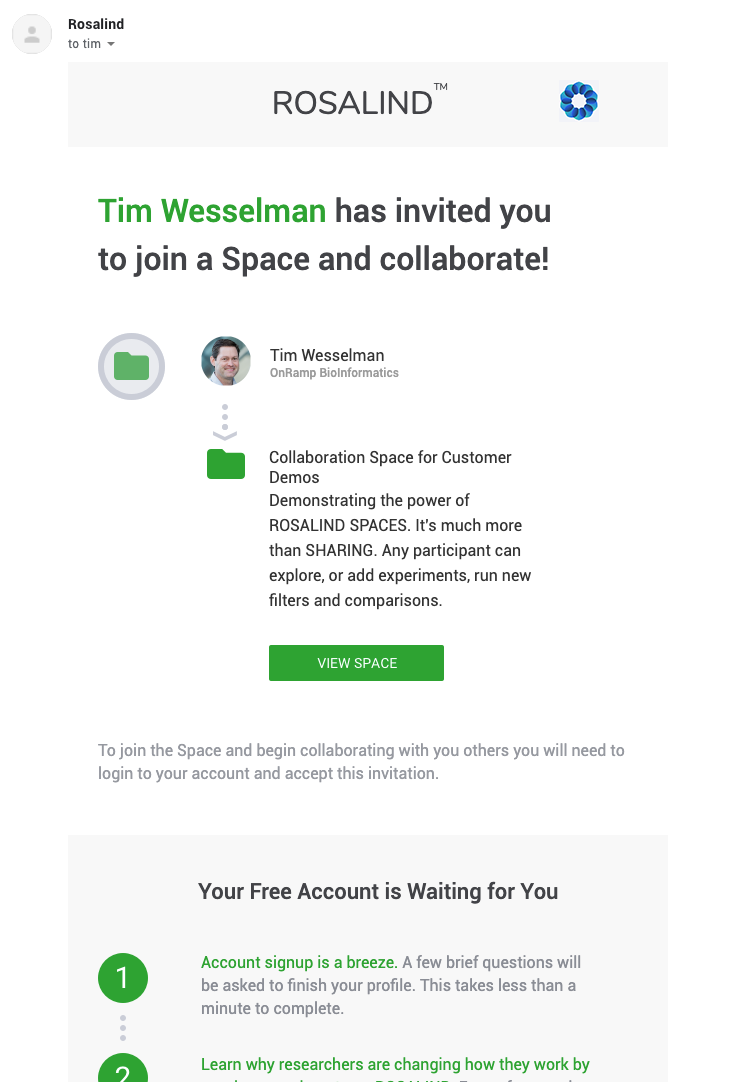 Anyone participating in your Space will be able see and explore the Experiments and Meta-Analyses shared in the Space.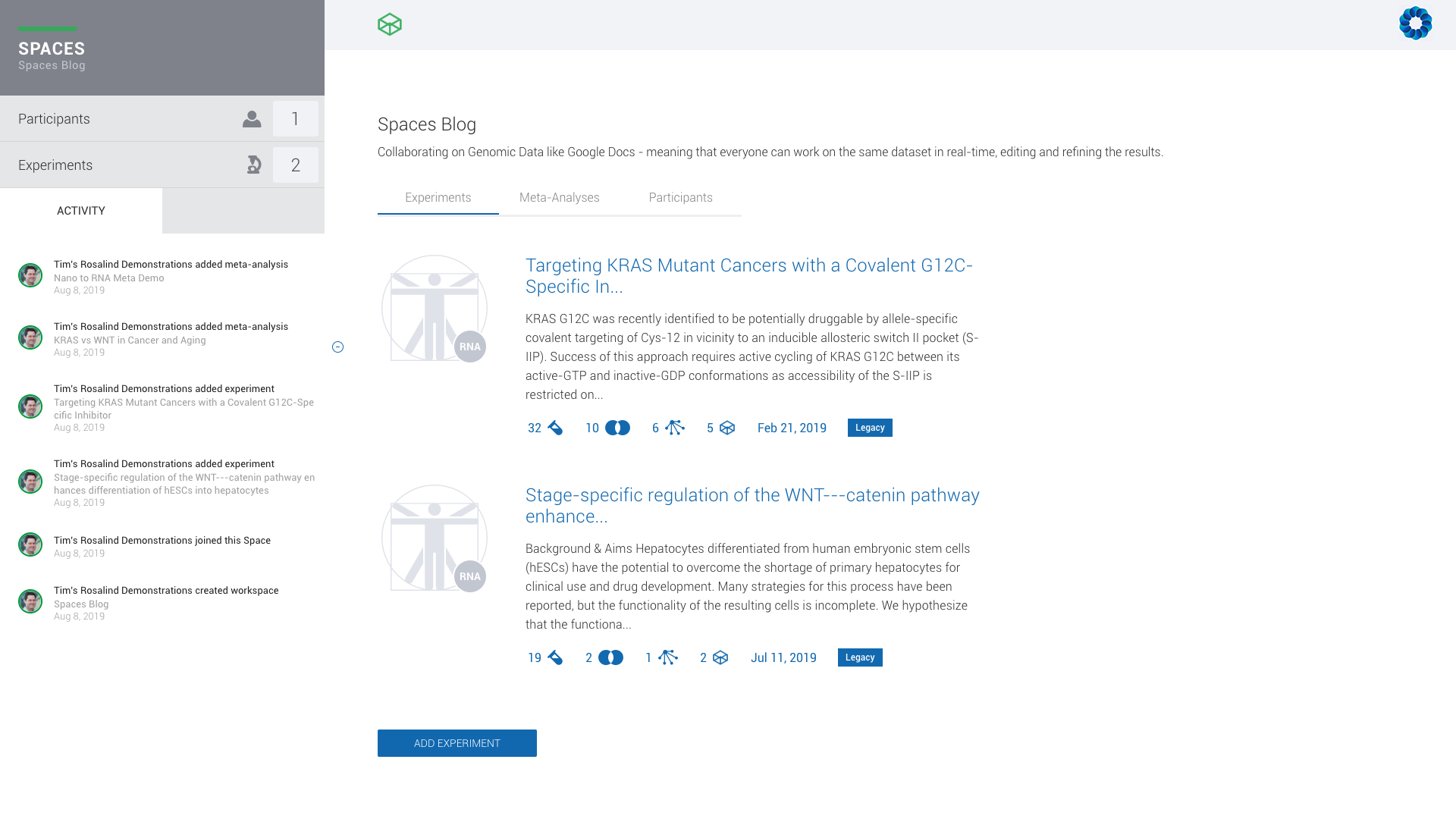 Done: Fast, Easy Collaboration
That's it. Your collaboration Space is live. Now you and your fellow Scientists are empowered to interactively explore multiple experiments, verify QC, change cut-offs, investigate pathways, add comparisons and dive into meta-analyses.
Everything happens in real-time with no need for data download or reprocessing
Any participant can identify and download publication ready figures
Everyone is empowered to explore the results with a consistent, single view of the truth
Collaboration with genomic data, reinvented.
Putting It All Together
Whether you're a Scientist in Drug Discovery or a Researcher working on Rare Diseases, ROSALIND provides the best experience for analyzing your data and collaborating across teams:
ROSALIND is designed for Scientists who don't have any prior bioinformatics background and empowers them with deep interpretation and the most advanced collaboration tools in genomics.
ROSALIND Directors harness admin capabilities to share projects and manage team budgets.
Advanced real-time analytics reports track usage trends and important quality control metrics.
Project Teams realize immediate productivity gains with same day results.
Preserve bioinformatic pipeline investments by importing processed data, and empower your Scientists to explore your full library of valuable data.
Liberate your data and ensure everyone on your team can collaborate in real-time.
Choose the right plans for your team here, and sign up for a Scientist 14-Day Trial to get started today.