Updated: June 25, 2020 ------
The COVID-19 Research Community Showcase
The COVID-19 Research Community unites scientists across the globe in the shared purpose of accelerating our collective understanding of COVID-19 and the SARS-CoV-2 virus. Researchers working on COVID-19 receive complimentary Community Scientist access to ROSALIND and the NanoString Early Access Program to facilitate rapid data analysis with real-time, global collaboration.
Today, we enhanced the COVID-19 Research Community through the addition of a new Showcase. ROSALIND Showcases provide a new experience for collaboration by summarizing highlights, capturing key observations and empowering community scientists with a library of COVID-related datasets, including some of the most recent research.
The COVID-19 Research Community Showcase is accessible publicly at this link: https://rosalind.onramp.bio/showcase/covid19
Join the community effort to share, discover and accelerate our collective understanding of COVID-19.
Updated: May 20, 2020 ------
NanoString Early Access Program and the COVID-19 Community
Today, we announced our collaboration with NanoString for the development of new analysis tools for data generated on NanoString's nCounter® Analysis System. This new analysis functionality is now built into ROSALIND™ and facilitates data visualization, exploration and collaboration for COVID-19 researchers performing critical host response studies on the nCounter platform.
As of the Early Access Program launched today, ROSALIND natively supports the NanoString COVID Panel Plus with targeted gene expression on human immune response with 10 supplemental genes (8 SARS-CoV-2 plus ACE2 human and ACE2 mouse). This new solution incorporates the methods and algorithms of NanoString nSolver and their Advanced Analysis solution within ROSALIND to accelerate insights from the nCounter instrument and empower global collaboration.
Through the Early Access Program scientists and researchers are empowered with an end-to-end solution that streamlines the extraction, quantification, data analysis and collaboration to provide deeper insights into the gene expression of human immunology together with the viral response experienced during COVID-19.
Updated: April 12, 2020 ------
COVID-19 Community Enablement - SARS-CoV-2 Genome & Virology
The SARS-CoV-2 genome is now available for new experiments and to support the COVID-19 Community. This facilitates analysis and discovery into the viral gene expression of COVID-19. Many of the recent NCBI public data submissions with SARS-CoV-2 samples and COVID-19 patient samples have already been processed and added to the Community Space.
ROSALIND Pathways has added a new Virology category and collection of Knowledge Bases to enhance COVID-19 research. New entries include Pathogen-Host Interactome (P-HIPSTer) and GEO Virus Perturbations.
New COVID-19 datasets now available in the Community Space:
Updated: March 30, 2020 ------
Support for the SARS-CoV-2 Genome is in development now and will be released next week. We will also be posting several new public datasets from multiple locations across the globe. It's imperative that we join forces globally in open data sharing on COVID-19 so that we may track the strains, measure the progression of the disease and assess the efficacy of treatments.
If you have COVID-19 datasets, upload them today for free processing and interpretation.

Originally Posted: Jan 25, 2020 ------
Seeing the news on the growing threat of a Coronavirus pandemic, I'm reminded of just how interconnected we all are on this planet. Within a few short weeks, this deadly virus managed to make its way across species and oceans to a dozen different countries, affecting thousands of people. We still don't know how severe this strain of Coronavirus will be and it's hard not to be driven to join the fight against it.
We live in an era of unprecedented genomic technology with brilliant scientists that work tirelessly each day to gain deeper understanding into the inner workings of our biology and the diseases that afflict us. I believe that our greatest work stands before us and will be achieved through collaboration. While technical, organizational or resource constraints often slow our progress in other areas, we can overcome these now to collaborate for the cure.

Today we've launched the Coronavirus Community Space to provide open-access of ROSALIND, our discovery and collaboration platform, for fellow scientists who wish to join a community effort to share, discover and accelerate our collective understanding of Coronavirus.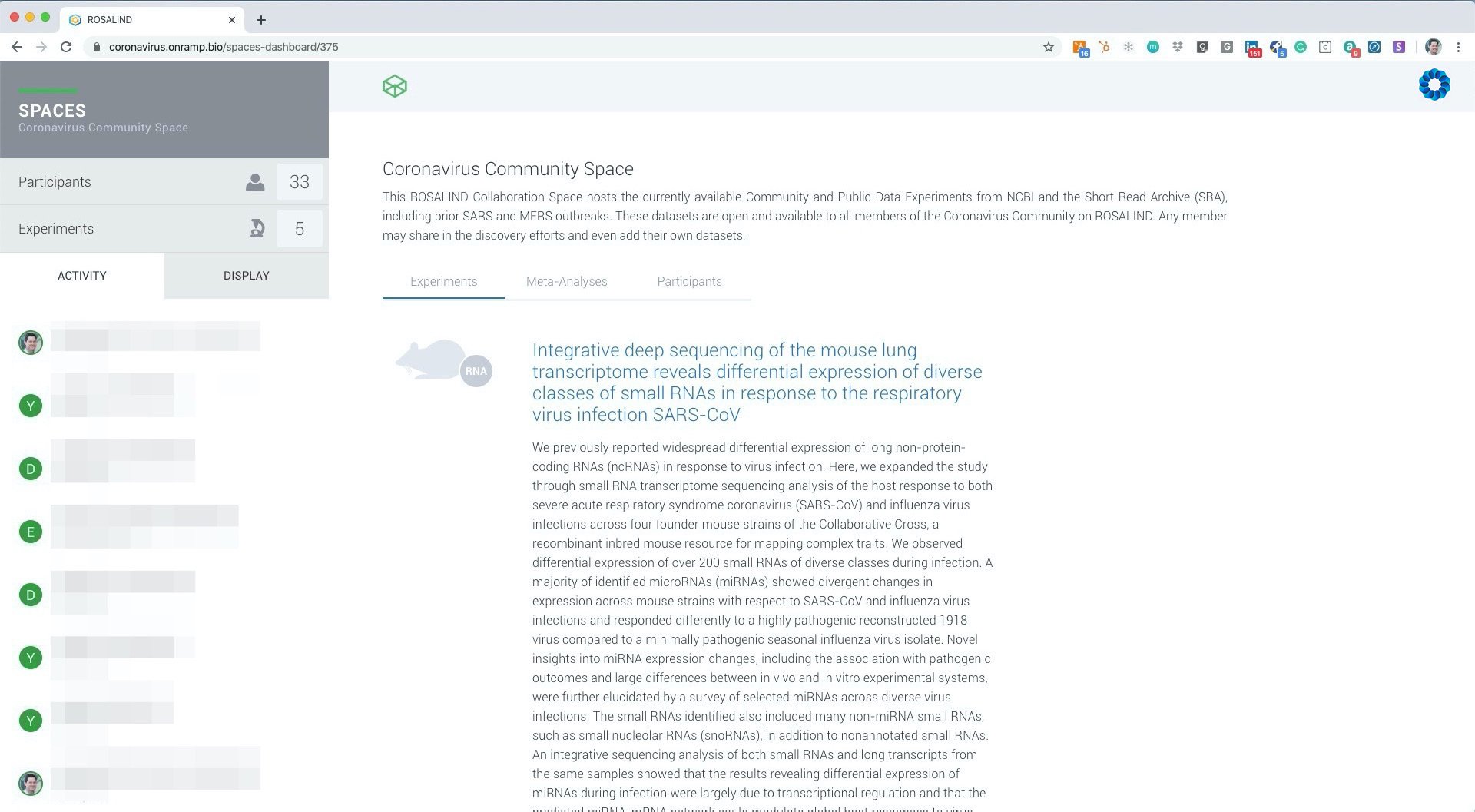 About the Coronavirus Community
The purpose of this Community is to unite Scientists around the globe with a singular focus of accelerating the understanding of the Coronavirus and its biological outcomes. By joining this Community, participating Scientists will be provided with free Scientist access to ROSALIND and the ability to rapidly process datasets and share results with fellow collaborators within the Community.
Community Access: Scientist-level provided (subscription fee waived for all community usage).
Discovery:

Explore any Transcriptomic or Epigenetic dataset, including RNA-seq, miRNA-seq, ATAC-seq, ChIP-seq and NanoString.

Collaboration:

Consistent, real-time collaboration with activity logs. The Coronavirus Community Space will provide open-access to both community-contributed and public datasets.

Public Data:

Automated Import and Processing of NCBI | Short Read Archive (SRA) BioProjects.

Cloud-based:

Accessible anywhere on the planet.
Getting Started
Register: Upon joining the Community, you'll be invited to register on ROSALIND. Enter your institution email and setup your account.
Accept the Community Space Invite:

Your account will be provisioned with Community Scientist Access and an invite to the Coronavirus Community Space will be sent to you.

Access Community Datasets: Look for "Spaces" after logging into your account to access the Community datasets.
Learn More:

For more information on ROSALIND check out the links at the bottom of this post.
Updated: Jan 26, 2020 6:47 pm ------
To facilitate understanding of Coronavirus, the following NCBI public data experiments have now already been added to the Coronavirus Community Space:
Transcriptomic analysis of MERS-CoV infected Calu-3 cell with or without AM580 treatment (PRJNA506733)
Relative timing of type I interferon response and virus replication determines disease outcome during MERS-CoV infection (PRJNA545350)
Transcriptome profiling of influenza virus-infected human bronchial epithelial cells (PRJNA305099)
SARS-CoV-Encoded Small RNAs Contribute to Infection-Associated Lung Pathology (PRJNA355238)
Transcriptomic Analysis Of circRNAs-miRNAs-mRNAs upon Middle East Respiratory Syndrome Coronavirus -MERS-CoV- infection (PRJNA580021)
Transcriptomic analysis of the Novel Middle East Respiratory Syndrome Coronavirus-MERS-CoV (PRJNA233943)

Additional experiments will be added as identified by Community members
Please share this post with any others who may be interested in helping this cause.
Select screenshots from current experiments in the Coronavirus Community Space: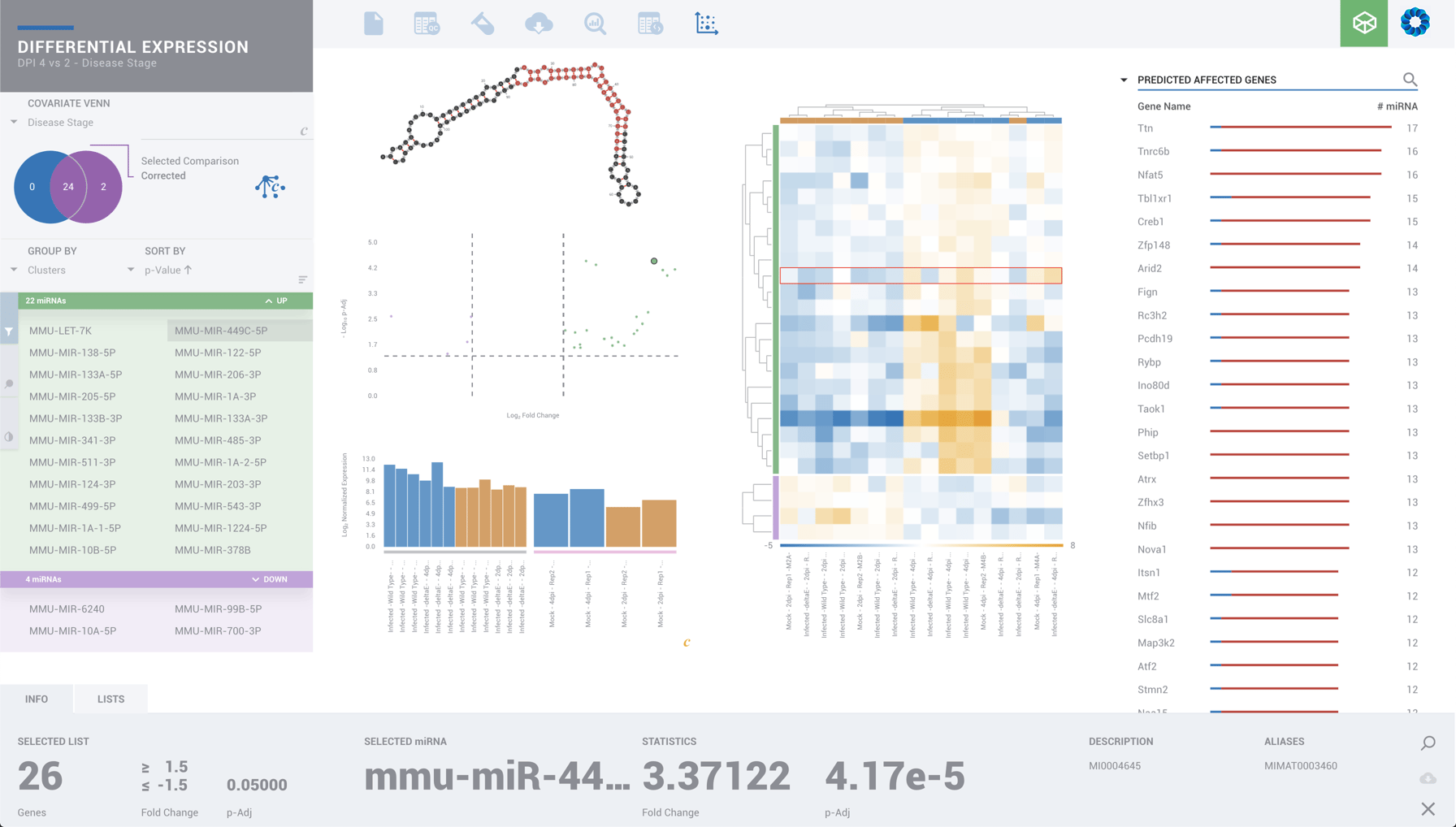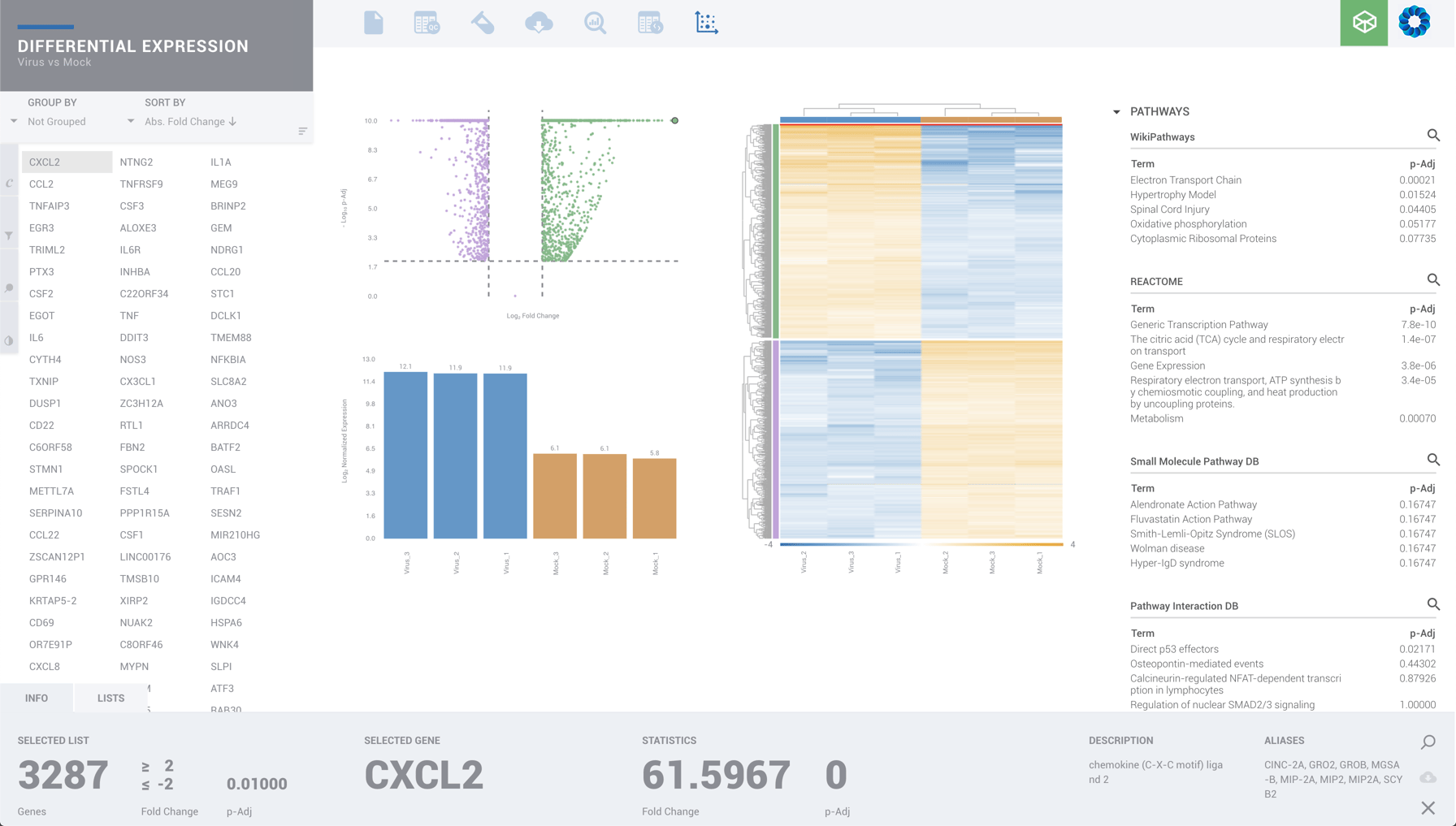 Learn more about ROSALIND's specifications and capabilities here.
Download the ROSALIND Quick Start here.
Request training from our Scientists here: https://calendly.com/rosalind-training