Our latest ROSALIND update v3.16 is now live and delivers enhancements for collaboration, 10X Single Cell RNA (scRNA-seq), Pathway Enrichment and more.
10X Genomics Single Cell RNA Support
ROSALIND now supports 10X Single Cell RNA-seq including cloud-scale processing with scRNA Cell Ranger for 10X datasets allowing the alignment, quantification and download of default clustering results. For every scientist, CRO and Core Facility looking for relief from the computational burden of processing 10X Genomics datasets.
Showcases and Collaboration Attribution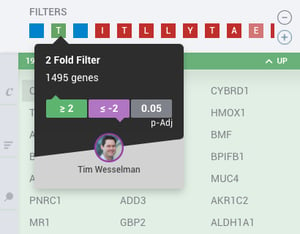 Now every contribution within ROSALIND includes attribution to the contributing scientist. Use the new tooltips to quickly see filter parameters, the resulting gene counts and the scientist's profile.
ROSALIND Showcases provide a new experience for collaboration by summarizing highlights, capturing key observations and engaging audiences through vivid imagery. Showcases streamline access with a sharing URL and publicly accessible Showcase summary.
Explore the COVID-19 Community Showcase: https://rosalind.onramp.bio/showcase/covid19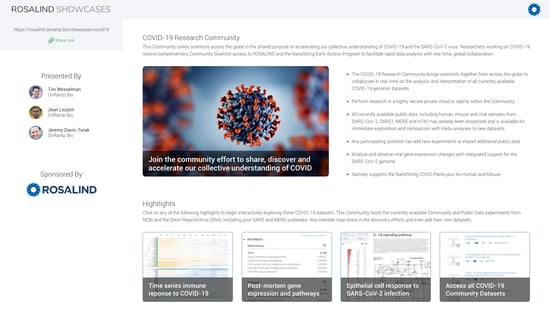 Chromatin Accessibility (ATAC-seq) Public Data
NCBI Public Data import now supports automated processing of ATAC-seq experiments in addition to RNA-seq and miRNA-seq. Public Data Import is available to Explorer, Scientist and Director access subscriptions.
Enhanced Pathway Interpretation
Pathway interpretation has been enhanced to extend our comprehensive Knowledge Base Collections for nearly every non-human species.
Pathway interpretation features over 50 Knowledge Bases, including up-to-date versions of each, and also supports proprietary Signature Collections for Enterprise customers. Gene Ontology includes Advanced Pruning (p-Elim) to eliminate largely redundant terms and provide greater focus on meaningful biology.
Some of the Knowledge Bases now available include:
Pathways: WikiPathways, BioPlanet, Reactome, Panther, BIOCYC, Pathway Interaction Database, and the Small Molecule Pathway Database
MSigDB Pathway Collection: Hallmark, Chemical and Genetic Perturbations, MSigDB-Reactome, MSigDB-BioCarta, MSigDB-Protein Interaction Database
Oncology & Immunology (MSigDB): Cancer Gene Neighborhoods, Cancer Modules, Oncogenic Signatures, Immunological Signatures
Transcription & Regulation: MSigDB-Transcription Factor Targets, JASPAR-Transcription Factor Targets, TRRUST-Transcriptional Regulatory Networks, miRNA Targets, miRNA Target Interactions, miRNA Target Predictions, and Chromosome Location
Diseases: ClinVar, PheWeb, GWAS, DisGeNet, Jensen Diseases
Drugs: FDA Approved Drugs (DSigDB), Kinase Inhibitors (DSigDB), BROAD Connectivity Map (DSigDB), Computational Drug Signatures (DSigDB), Guide to Pharmacology, Drug-Gene Interaction Database, Drug Matrix - Toxicogenomics Gene Signatures
Virology: P-Hipster - Pathogen-Host Interactome, GEO - Virus Perturbations (Up & Down)
Ontology Collection: Human Phenotype Ontology, Biological Processes, Molecular Functions and Cellular, Molecular Functions and Cellular Component, GO Molecular Function (MSigDB), GO Biological Processes (MSigDB), and GO Cellular Component (MSigDB).
Cell Types & Tissues: Human Cell Atlas
Protein Collection: Protein-Protein Interactions, Interpro, Pfam, SMART, GENE3D, and Prosite
For new users, you can choose the right plans for your team from our online catalog (https://rosalind.onramp.bio/store/catalog), sign up for a Scientist Trial or learn more about Enterprise Subscription Plans by contacting us here: https://www.onramp.bio/contact-us
Related Posts